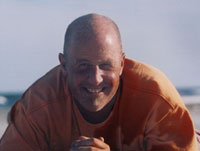 About Hunter & Gatherer
In 2004, Steve Pannepacker founded Hunter & Gatherer as a natural offshoot from his career as art director and prop stylist. In his quest for just the right props for the 1000+ TV commercials and shows he has worked on, Steve has acquired great antiques and collectibles...sometimes just a few too many. The happy result for the rest of the world was that Steve decided to open Hunter & Gatherer, a store jammed with quirky, memorable props, antiques and collectibles from the turn of the century through the 50s, 60s, 70s and 80s.

A bit of back story about Steve: he is an avid surfer and skateboarder and has traveled the world seeking the perfect wave, which usually ends up being "down the shore" in New Jersey. Steve is the father of five kids who share his love of surf and sun.